Archive for February, 2010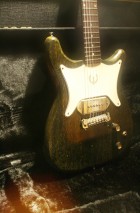 Gruhn is a well known Vintage Guitars Store, set in Nashville Tenessee USA, the country music land. The Coronet was there, waiting for an owner. I felt I was instantly pointed out.
I wasn't surprised that the seller had mispelled my hometown and forgot a numer in my postal code. Mistakes can happen, especially from a continent to another. But the funny part was that UPS FRANCE, which is an expensive delivery service, would read Strasboury postal code 6700, which does not exist, without thinking that it really might be Strasbourg postal code 67000, which does exist. They should know, Barack Obama been there last year, and it's part of their job to know France. Other than that my phone number was written on the package. And I'm still wondering how they thought "StrasbourY doesn't exist. So that must be some town in Bretagne." Anyway The Silverfox Coronet finally found its way home. (after some expensive calls)
Made in Michigan Kalamazoo plant in 1964, the Coronet in its stunning Silverfox finish been delivered frozen, with scars and wrinkles, and yet I could feel its soul screaming it's not ready for retirement.
The neck is straight, it plays smooth and easy - it was intended for children!!!- Frets and board were reshaped by a qualified Luthier. Each part of it is stock, except for the bridge. The stock compensated wraparound bridge has been replaced by a Badass. I set the action low with no difficulty nor buzz.
Despite its 4.something lbs, the coronet throw a large rich full sound to my poor crying face. Vibes. Vibes forever.
An all tube amp. I'm in the mood for acting the intro-scene from Back To the Future 1, again. Somewhat wiser maybe.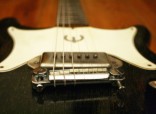 Depending on how you pick the strings, the stock P90 pickup sometimes grawls wild or somtimes whispers. While some might talk about the Strat sound as crystal, here it's more about menhir - hence Bretagne. Can't help the AC/DC soundalike licks. It makes me feel like kneading the face of my invisible auditorium on gravel.
The Coronet is an easy player, its vibes and sounds are like the sweetness of a crepe wall in my face. The Coronet has plenty of pocs and dents, it's more wrinkled than Liz Taylor, but this old commoner it's still begging for more.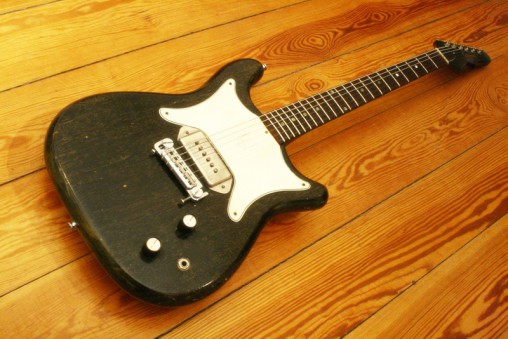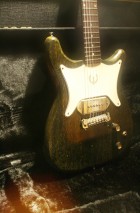 Gruhn est un magasin de guitares "vintages" réputé et se situe à Nashville Tenessee, USA, berceau de la musique country comme Dorothée le sait. La Coronet y attendait un propriétaire. J'étais désigné d'office.
Je n'ai pas vraiment été surpris du fait que le vendeur ait mal épelé le nom de ma ville, ni du fait qu'il ait supposé que son code postal n'ait que 4 chiffres, lorsqu'il a préparée la guitare pour l'envoi. Non. Le plus drôle c'est plutôt lorsqu' UPS France, a réceptionné le colis en France: "Strasboury, code postal 6700… C'est surement en Bretagne ça."
Et c'est ainsi que la guitare à peau de renard d'argent s'est retrouvée au pays du beurre à la crêpe, avant de retrouver son chemin au pays de la choucroute garnie.
Sortie de l'usine Kalamazoo, Michigan, USA, en 1964, la Coronet dans sa finition fourrure de renard argenté, m'a été livrée frigorifiée, pleine de rides et de cicatrices, et pourtant tout en elle me hurle qu'elle n'est pas prête à prendre sa retraite.
Le manche est droit comme au premier jour, facile à jouer - elle était destinée aux enfants (!) - La touche et les frettes ont été traitées par un luthier qualifié. Tout ce qui la compose est entièrement d'origine à l'exception du chevalet 'Badass' qui remplace le Gibson Wraparound compensé. J'ai pu me régler une action basse sans soucis ni mauvaises vibrations.
À vide, malgré ses 2027 grammes, elle projette le son des cordes bien puissamment dans ma face. Ça vibre. Ça vibre longtemps.
Tiens un ampli. Et si on s'refaisait un remake de la scène d'introduction de Retour vers le futur… en plus sage?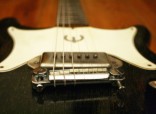 Le micro P90 d'époque offre cette sonorité tantôt agressive, tantôt douce selon le degré d'attaque sur les cordes. On parle de son de cristal en parlant du son des Strats. Concernant la Coronet, il s'agirait plutôt d'un gros menhir (d'où la Bretagne). Le premier riff qui passe, façon AC/DC, me donne l'impression de pétrir la face de mon auditoire invisible contre le gravier.
La Coronet est facile à jouer, les vibrations, les sons qui en sortent sont comme la douceur d'un mur de crépi dans la gueule. Elle est pleine de pocs et de pets, plus ridée que Geneviève de Fontenay, mais cette roturière qui en a vu des mains, elle, m'en redemande encore.